In spring of 2014, I left the final full-time engagement of my diversified, multi-decade business career, opting instead for part-time contract work as an independent writer and communication consultant. I made this change so that I could devote more time to other personal writing projects, including this endeavor, Earthpost.net.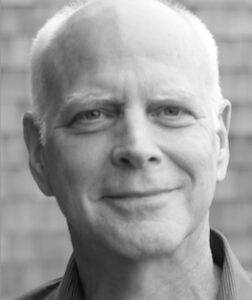 My professional career has always been rich in challenging engagements with a wide variety of interesting projects (synopsized below). But my income-producing work has never been my life's first calling, at least not after the age of 23 when a single-minded pursuit became the driving force in my life. This pursuit can be described as the quest for self-knowledge in the spirit of the ancient maxim, inscribed on the Temple of Apollo at Delphi, to "know thyself."
Alongside my keen interest in personal growth and self-knowledge, I have always been fascinated by the process and mechanisms of sociopolitical change, with a special interest in how personal and cultural development relate to one another. For many years I was not sure just how social progress and personal development meaningfully connect to each other, but it has become increasingly clear over time that these two fronts of change are intimately, inextricably intertwined. It's a complex and illuminating nexus, which will be explored in depth in Earthpost.net.
I have not taken up my admittedly ambitious lifelong pursuit as a philosopher or theologian, nor as a psychologist or biologist, physical or social scientist, mystic or scholar, but simply as a highly inquisitive person insatiably curious about the human condition, intently observing and studying the life stirring within and swirling around me. So while I make no claim to being 'properly credentialed' I likewise offer no apologies for answering the call to "know thyself" and the world at large from my standing as a fellow traveler in a mysterious land that each of us strives to make sense of from our moment of birth.
A brief recap of my continually evolving journey.…
~ ~ ~
I was born and raised in the San Francisco Bay Area and have resided in California most of my life, living in many different areas throughout the Golden State. The exceptions are less-than-a-year residencies in New York City, Hawaii, and Costa Rica, plus a fair amount of domestic and international travel.
My ardent pursuit of personal/psychological/spiritual/consciousness development has been conducted largely independent of – or more accurately, alongside – my day job. However, my deeper passion emerged into the foreground of my work life a handful of times in my 30s:
When I was 30 and living in the Bay Area, I developed a 15-hour consciousness development seminar I called "Realization." I held the workshop over several sessions with two groups of four and six people. It was well-received and personally rewarding, yet I moved on to other engagements.
In my early 30s I served for six months as a live-in counselor at a home for 'socially disadvantaged' teenage boys in northern California. (Now that was a learning experience.)
In my mid-30s, living in the Sierra Nevada foothills, I held classes, gave talks to groups, and wrote a series of articles for a local periodical on meditation, based on my own experience and method.
In my late 30s I served for a year as the executive director of a San Francisco-based nonprofit organization dedicated to consciousness research and education. While there, I launched an effort called the All-Win Network, building on the "win-win" social interaction/negotiation strategy popularized in the 1970s. Long on ideals but short on execution, the project was short-lived.
Aside from these directly related engagements, I have carried on my quest for self-knowledge in the deeper currents of my psyche while outwardly leading a fairly kaleidoscopic personal and professional life. Virtually daily I would examine and digest my life experiences in lengthy sessions of reading, conversation, contemplation, and personal writing. (I still do.)
~ ~ ~
~ ~ ~
~ ~ ~
Many of my noteworthy experiences over a long life have been uplifting, others distressing, some deeply tragic. All in all I consider myself unusually fortunate in life's lottery. And virtually all my experiences – euphoric, ordinary, and painful alike – have contributed to my ongoing quest for self-knowledge and understanding of the human condition.
So there's my sort-of quick story. Thanks for reading.
– Ron Jones
   March 2023