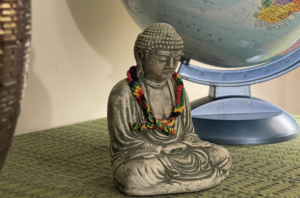 Our trusty plumber Mike was at our home today to fix a toilet that wouldn't refill. When he came into my office to get paid after the job was completed, he noticed I had sound-proofed the door.
"Yeah, I'm starting to do some video recording," I explained, showing him my webcam and mic set-up. "So you're gonna be a YouTube star, huh?" Mike said with a smile.
"Who knows, maybe!" I responded (with a smile :). He asked what I would be talking about in my videos. "Meditation and related topics," I said as I handed him a check. He was intrigued.
On the way out the front door and heading down the steps, Mike turned and said: "So… is meditation the key to a good life?"
What a great question! My off-the-cuff response to Mike:
"Well, maybe not meditation per se, but yes, I'd say the state of mind that meditation can help us attain is really important, namely being calm and poised, even in stressful situations. There are certainly other ways to develop that capacity, but meditation is a really good tool."
Mike related his own brief experience taking a few meditation classes some years prior, which he said he benefited from. He asked me to let him know when I was up and running.
(I'm working on it, and will post here when it's ready to go.)